Efficient Fire Protection System
At Shapiro Fire Protection Company, we have extensive experience working with fire systems of all types. We provide semi annual inspections, repairs and maintenance.  Factory authorized distributor for Ansul, PyroChem, Amerex, Janus and Rotorex fire systems.
We offer a wide range of fire protection services, and no matter what kind of business you operate, we're certain to have something perfect for you – fire systems to keep you and your employees, building and documents safe in case of any fire emergency.
Extensive Fire Protection Services
We provide semiannual inspections of fire suppression systems as well as installations of:
Wet chemical restaurant systems
Industrial and automotive paint booth fire suppression systems
Clean agent fire systems for server and document storage rooms
Micro fire systems for CNC machines, fume hoods and electrical cabinets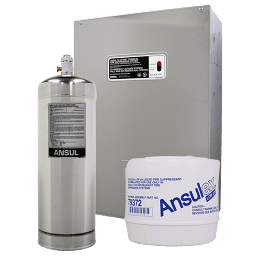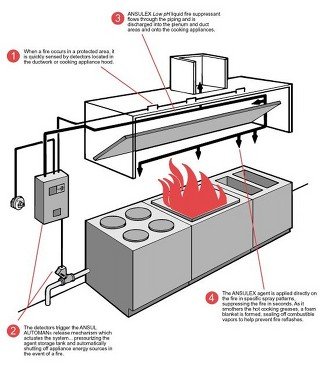 The Ansul R-102 Kitchen Fire Suppression System
The Ansul R-102 system meets the fire challenge. It detects and suppresses fires, with or without someone present, 24 hours a day.
Its simple design permits quick and easy installation in single or multiple system configurations; so, it can handle a single mesquite grill and hood or an entire kitchen full of cooking appliances.
Pyro-Chem Kitchen Knight II Restaurant Fire Suppression System
The KITCHEN KNIGHT II Restaurant Kitchen Fire Suppression System has been designed for protecting the kitchen hood, plenum, exhaust duct, grease filters, and cooking appliances (such as fryers, griddles, rangetops, upright broilers, charbroilers and woks) from grease fires.
The versatile and state-of-the-art wet chemical distribution technique, combined with dual, independent activation capability – automatic fusible link or manual release – provides efficient, reliable protection, the moment a fire is detected.
Once initiated, the pressurized wet chemical extinguishing agent cylinder discharges a potassium carbonate solution through a pre-engineered piping network and out through the discharge nozzles.
The wet chemical discharge pattern is maintained for a duration of time to ensure suppression and inhibit reignition. Expanded capability provides remote manual actuation, gas equipment shutdown, and electrical system shutdown.
This optional equipment will enhance the basic system functions and be applicable when designing custom configurations to suit a particular customer's needs and / or comply with local codes.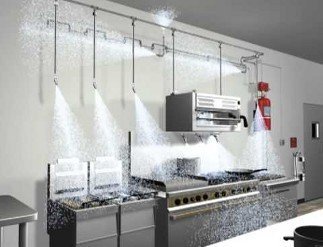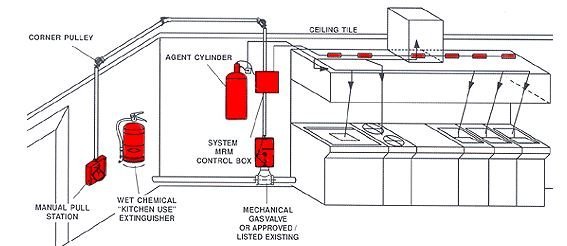 Amerex KP Restaurant Fire Suppression System
We carry the Amerex KP Automatic Restaurant Fire Suppression System designed to protect the hood, duct, and appliances.
The Amerex system provides a "one-two" attack against the threat of business loss due to cooking operation fires.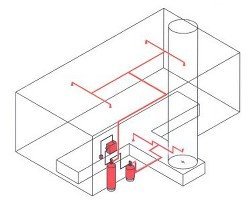 Amerex IS Industrial Fire Suppression Systems
The Amerex fire extinguisher and automatic system designs have prevented extensive damage and loss that would have been caused by the ravages of fire.
The costs associated with lost production time, equipment replacement, and "business interruption" are a concern for any industry.
In keeping with the Amerex tradition of concern for the customer, the Amerex "IS" has been designed to offer the best fire protection available and do it with less. Less equipment means less time to install, less time to service, and fewer nozzles to locate (and get in your way).
All of this could translate into lower initial costs and lower maintenance costs over the life of the system.
Janus / Amerex CPS Systems
The Janus / Amerex CPS system is for use in data processing centers, with telecommunications equipment (PBX / IDF rooms and cell sites), process control rooms, health-care facilities in the protection of medical records, and in CT / CAT scan and MRI control rooms to protect the equipment.
These systems are used in museums and laboratories because of their fast response and ability to detect a fire and report an alarm to the control panel.
These systems discharge based on a programmed time delay set up by the user. Amerex CPS has two extinguishing options:
DuPont™ FM-200®
3M™ Novec 1230™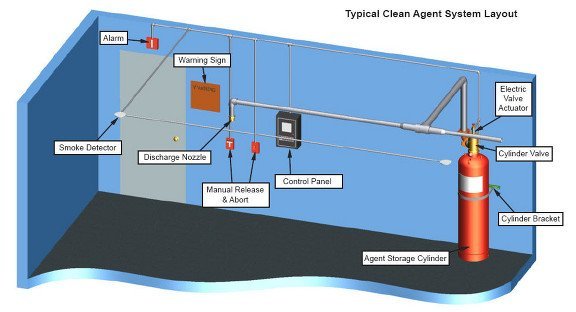 Rotarex Firedetec
 

Systems Protection in the Event of a Fire

Fires can happen at any time, causing damage worth thousands of dollars to businesses throughout the area. Here, we carry a full line of fire extinguishers and fire suppression systems from reputable manufacturers and dealers to ensure you have protection in the event of a fire. Call us today for emergency services.

We offer a broad range of fire protection systems:
    Cabinets and more
    Industrial and paint booth fire suppression systems
    Portable and wheeled fire extinguishers
    Wet chemical systems (for restaurants)
Turn to Us for Your Fire Protection Needs
Our fire protection services don't just end after the sale and installation. You can also count on us for system replacements, annual and semiannual inspections, and mobile recharging services.
When you choose us, you'll always have the protection and peace of mind you deserve.
Fire extinguisher training
is also available.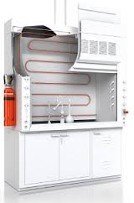 "Paul was WONDERFUL…fast, patient, kind, friendly, flexible. I literally don't have enough positive adjectives to describe him, and couldn't recommend him more highly."
Office
105 Camars Drive Warminster, PA 18974